12 Aug 2022
Winning the SEO Content Arms Race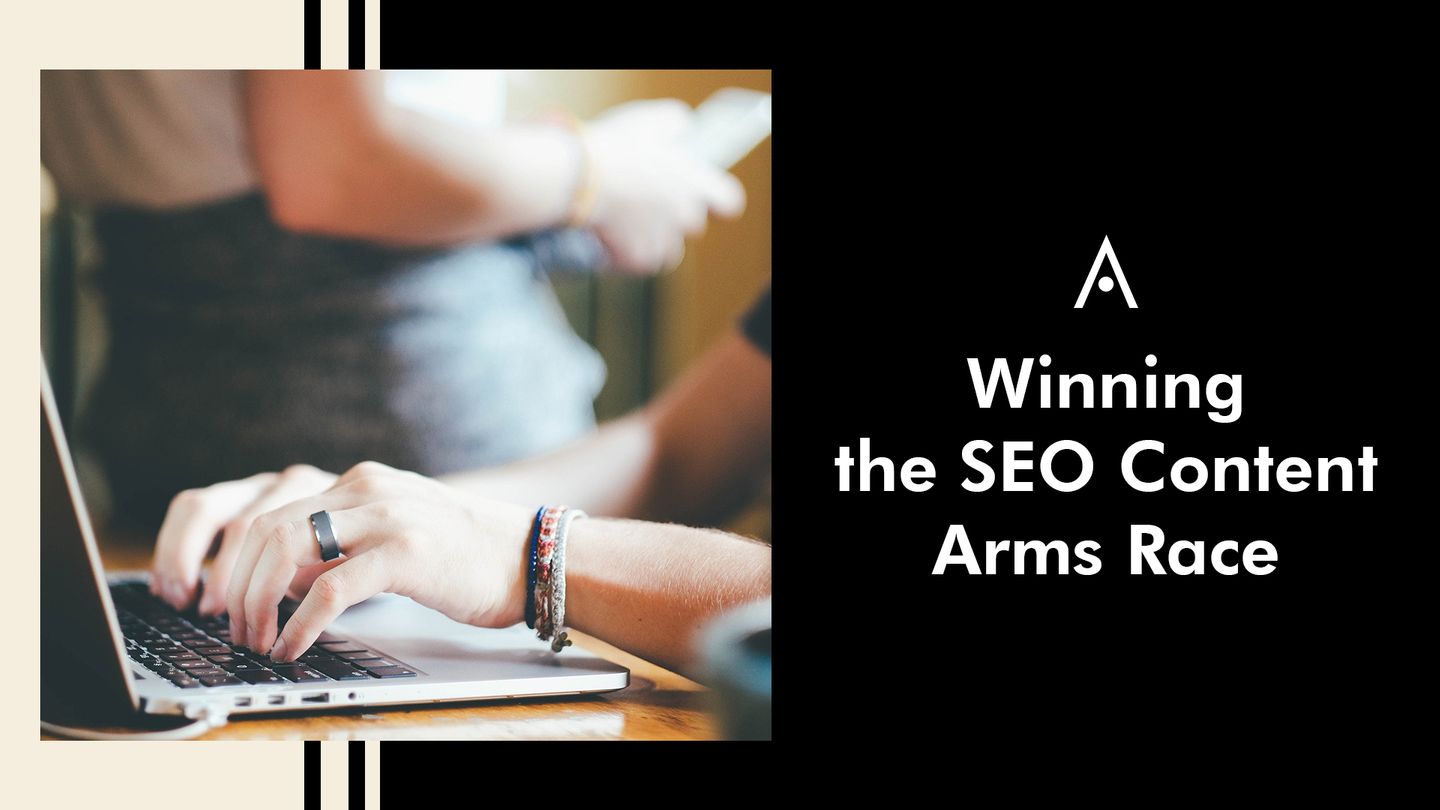 You've heard it all before. Content is king and SEO is important.
Content is important. It's how we build trust with the audience and authority with Google and other search engines. SEO is also important and challenging. Google's algorithm changes frequently and there are a lot of considerations to make sure your content and website properties are optimized.
The problem is that many marketers spend so much time concentrating on creating content for Google, we forget to really win at SEO, you need to focus on the user.
The Benefits of SEO
We all know that there are benefits to SEO. First of all, organic traffic is free. Or, at least, you're not paying for clicks the way you do with paid ads. Of course, building content to rank organically is an investment of time and work, but overall it's more cost effective.
You're already writing content. That's the best way to build connections and get leads. It helps you build trust and make connections in the industry. Content also helps you position yourself as a leading industry expert. If you're working with content anyway, adding SEO best practices will help you grab that organic traffic faster.
SEO actually helps you develop this content. Keyword research helps you identify the right words that will work for your Domain Authority. You can research what's ranking on the first page and that will tell you what the audience is looking for in that search term. Theoretically, you just come up with BETTER content and you should be able to rank well on Google.
Creating Content Is Easy...
This is a little tongue in cheek. Creating good content has become easier than ever. You can outsource content to freelancers or even outsource to other countries. There are AI solutions to actually write your content for you. And, believe it or not, these options are pretty good. You might have to edit but it's a huge time saver to use these solutions.
Most of these solutions are fairly cost effective, too. And the time savings in not creating the content from scratch certainly makes this option enticing.
Writing good content isn't actually easy. Getting it to rank is even more difficult. But there are a lot of options to help you develop your content.
The Problem: We're NOT Writing for Users, We're Writing for Google
Every marketer uses this same formula. They're all writing for Google. They're all using SEO best practices. They're all researching their content creation the same exact way.
What's the result? All of the top entries on Google say pretty much the same thing. If you dip into all the ranking content, you'll find the same or similar posts and pages. Because all of the creators of these pages are using the same tools to determine what's ranked before and they're all coming up with the same basic content length and topics.
This is all good content. But the world is saturated with good content. Good content is not enough anymore. You need great content in order to get your content to perform.
Great Content Starts With the User
Everyone says that they should prioritize the user, but very few marketers start there. The usual process is to start with your keyword research, then write the content based on your research for that keyword. Then launch. Your user isn't really in that process.
Try flipping that process on its head:
1. Start with the User
2. Create Content They Need
3. Do the Keyword Research Last
Start with the User
Take an example. I had a number of clients asking me about backlinking strategies. Because I heard this question repeatedly, I knew that it would be a good thing to write about. I also knew who my user was, because I talked to them every day.
Create the Content They Need
When I started creating my post on backlinking, I had my audience firmly in mind. Now, if I researched this using the traditional method, I would have estimated a long post or pillar page, because that's what most people were doing. That's what my research would have shown me.
But I knew my audience and I knew they didn't want to read a 3000 word post. I wrote to them. I also mirrored their phrasing and used words and phrases that my real world clients had used.
Do the Keyword Research Last
Once I finished creating my post, I went back and did the keyword research based on what I'd written and what we could rank for and then I added that keyword into the post using best practices.
The post ranked for that keyword within days.
When you're developing content, putting the user first can help guide your messaging and really prioritize what they need. Remember, you're not writing to Google, you're writing to your audience.
Want to learn more affiliate marketing hacks to get you the best CPA/rev-share deals possible? Then you NEED to join us in Berlin for Affiliate Meet Markt, 26-27 Oct. And the best part... Affiliates attend for FREE.