12 Aug 2022
To List or Not to List - 5 Strategies to Manage Google's Ever Changing Affiliate Algorithm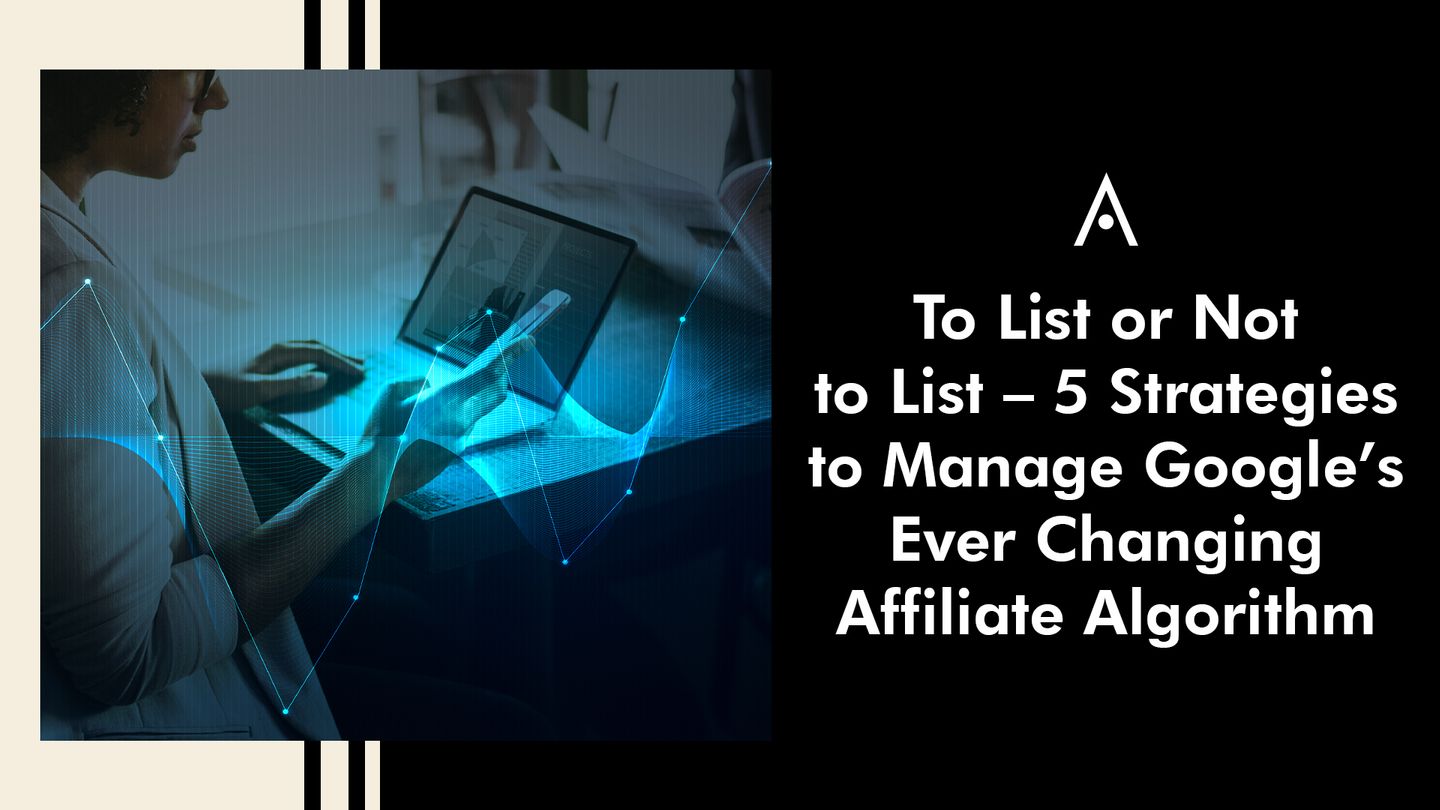 At a recent Affiliate Summit, masterful Brandon Myers gave a speech to a crowded room of fellow affiliate marketers. As the successful affiliate marketer and owner of two highly successful sites, Myers understands better than most what it takes to get noticed online. His five strategies to manage Google's ever-changing affiliate algorithm are summarized below, as presented in his speech.
1. Enabling Indexing
It's important to remember that Google's job isn't to make sure you have good content. Google's job is to serve up the best content according to your search query. In order to help Google do its job, you need to ended your own site for them. It helps if you think of Google as a librarian and your site as a book. A librarian's job is to seek out the books that will best help you to find the information you're looking for. The information inside books is indexed by a table of contents and maybe an actual index.
This is what you need to do for your site. Figure out how many search elements you can tether your content to. Because how you organize your site is the most important part of SEO.
2. Authenticating Authorship
As recently as four years ago, you could rely on your domain's authority. You could get away with ghost writing and author attribution wasn't too important. Today, with the proliferation of fake news and disinformation, authenticating authorship is a priority. Fake news has primarily been directed at social networks, especially Facebook. Suddenly, there's a huge disinformation problem, and that includes affiliate sites.
So now, it's important to authenticate authorship on your content. That includes putting your picture on there or at least your name. And if you're writing your own content, which you should be, then you need to show, Who is the author? What is the backstory of the authorship and how verifiable is it? Because in reality, we're looking at content auth authentication for the first time ever. You, you, the internet was a great thing, but I think we've all started to realize you can spew whatever you want on it, onto it.
3. The 70/30 Rule
The 70/30 rule is about caring for your user. It's about taking a consultative approach and not bombarding your users with sales pitches. 70% of your content should do nothing but serve your
customer information without any sort of access to moving them. This is the consultative content. This is the content that earns your users' trust and gets them to be repeat users.
Now, 30% of all the content that you produce should make money for you. These are your cornerstone pages. Cornerstone pages are like the trunk of a tree. The tree has branches and leaves and maybe flowers. Those are the 70%. Then the tree brings the user back down to the trunk and the roots, which is where you make money.
Every single article you have in the 70% zone should have a corresponding 30% piece of content in the base, at the end. So your 70% consultative content always leads down into the 30% content that makes you money as an affiliate.
4. Death & Taxonomies
If you're running a WordPress site, it's very easy to implement taxonomies. You have your content organized into categories, so users can search for content related to a certain topic, like driver's ed or something else. This creates a category page on your website. But then you need to take it a step further and tag your content. This will create a tag page. Aggregated, the tags and categories data forms a kind of grid, which better organizes and creates an index of your site that the bots can easily and quickly understand.
5. Social Proof
SEO is not just about the content that you produce on your site. It's also about establishing a social presence. This is a different way to think about social proof. You can go out and find a bevy of social sites where you can create a profile for free. And what all those sites offer is a backlink. Sometimes it's a follow and sometimes it's a no-follow link. But either way, it gives you social proof that, surprisingly, will help with your site's SEO. This has been proven to work for others, and it can work for you, too.
Remember, when you're an affiliate marketer, you're not working for yourself, you're working for your affiliates. Whatever you can do to help your affiliates get traffic is symbiotic. You're helping yourself by helping them. These five strategies for managing Google's constantly evolving algorithms will go a long way toward helping you get traffic, convert leads, establish social proof and authenticate authorship.
Want to learn more affiliate marketing hacks to get you the best CPA/rev-share deals possible? Then you NEED to join us in Berlin for Affiliate Meet Markt, 26-27 Oct. And the best part... Affiliates attend for FREE.