11 Aug 2022
7 Secrets To Find, Recruit, and Work With the Top 1% of Affiliate Partners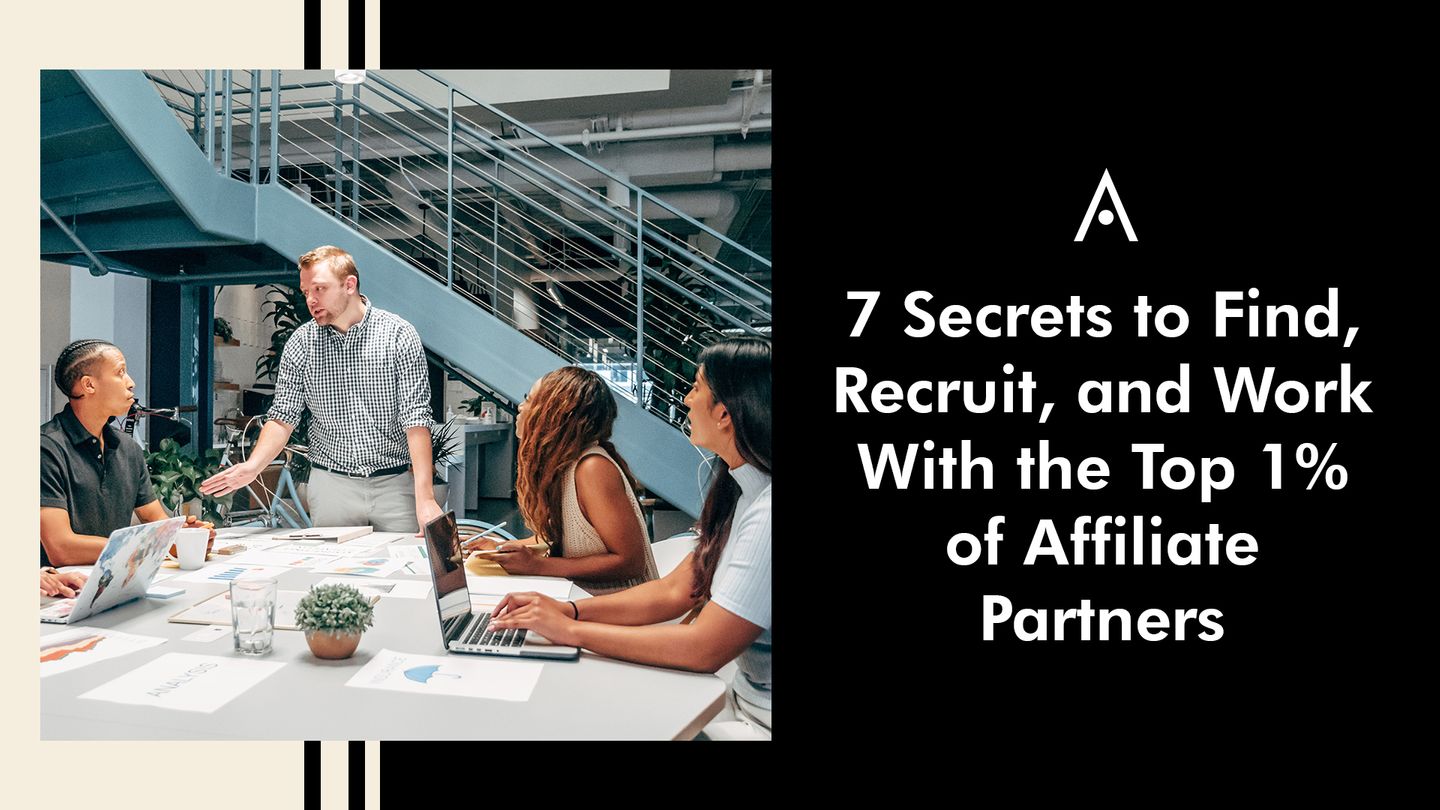 Affiliate partnerships drive big business – after all, referrals are the oldest form of marketing. Companies in any niche can use time-tested, foundational affiliate marketing strategies to grow their revenue. Here are 7 secrets to finding, recruiting, and working with the top 1% of affiliate partners.
Secret #1: Top Affiliates Deserve to Be Treated Like Your Best Customer
A VIP customer is an affiliate, influencer, or another business that has an audience or client base of their own that can be persuaded to engage with your brand. These customers have a unique relationship with your business that is different from both internal and external customers. Because VIP customers have such a profound impact on their following, their product and service recommendations carry a lot of weight. Be sure to treat them like the highly valuable customer they are.
Secret #2: Your Affiliate Manager Could Be Seriously Hurting Your Business (But It's Not Their Fault)
If your affiliate manager is ill-equipped to handle the relationships between your company and its best customers, your marketing strategies could fall flat. It doesn't make sense to have new or untrained team members working with your affiliates when they have even more value than your best traditional customer. Instead, you should be providing your affiliate manager with the support and resources needed to cater to your VIP customers.
Secret #3: Have the Right Assets For Partners
Make sure to provide your affiliate partners with a wide variety of high-quality digital assets to promote your brand. Offer long-form sales pages, banners, graphics, testimonials, downloads, and other assets that make it easy for your VIPs to market for you.
Secret #4: Plug Holes In Your Current Program
Avoid becoming so focused on acquiring new affiliates to promote your products or services that you neglect to nurture the relationships you have with your existing affiliate partners. Optimize your funnel and customize your assets at least annually and reach out to your affiliates to touch base, plan ahead, and upsell them if possible.
Secret #5: Be Willing to Spend Money On Testing
Testing is one of the most important parts of affiliate marketing, hands down. You could spend thousands of dollars on content, web design, and more, only to have abysmally low conversion rates. If you're out of money by that point or you've allocated your budget to other marketing commitments, you could be stuck with a poorly performing campaign.
Instead, set aside money in your marketing budget ahead of time for split testing. This allows you to optimize your sales funnel with what actually works, instead of continuing to run costly campaigns that aren't driving much if any return on investment (ROI).
Secret #6: Offer White Glove Service to Your Partners
Don't wait for affiliate partners to reach out to you with what they need. Be proactive about nurturing these relationships and offer them exceptional, personalized service. Email or call them to thank them for sending traffic and find out what they might need to increase that figure. Offer them customized assets with their branding and yours, and consider sending gifts on special occasions or as a thank you for supporting your business.
Secret #7: Incentivize Your Team & Affiliates
One of the most powerful ways to motivate your team members and drive affiliate recommendations is to incentivize them. Compensate your team well and offer robust training with clear goals and key performance indicators (KPIs). Your team wants to help your company succeed when they understand that they, too, will benefit from their extra hard work.
Bonus: Be An Important Part Of Your Community
Brand recognition is a critical part of affiliate marketing. You can gain more exposure for your business by becoming an important part of your local community. Host or attend events in your area or give lectures at local colleges and industry seminars. You can also set up tables at holiday bazaars or school functions and hand out pens, pencils, or other small trinkets with your logo.
Quick Reminders On Attracting Top Partners to Work With You
· Don't be stingy with paying your staff. This will likely backfire. Instead, crunch the numbers so you can pay them as much as possible.
· Continue to improve your sales offers and supporting materials. Proactively reach out to your affiliates to provide updated assets.
· Invest money in training. Give your team members and affiliate partners the tools and resources needed for success. When you don't, you set them up to fail.
· Build real relationships with your affiliates. When you build genuine trust between you and your affiliate, this comes across in their recommendations to their own target audiences. Potential customers can tell when affiliates really do believe in the products or services they recommend and when they don't.
Are you after THOUSANDS of leading affiliates who can drive serious traffic to YOUR brand? Then you NEED to join us in Berlin for Affiliate Meet Markt, 26-27 Oct. Grab your Networking Pass NOW before they sell out: