10 Aug 2022
20 Ways to Become a Star Affiliate in 10 Minutes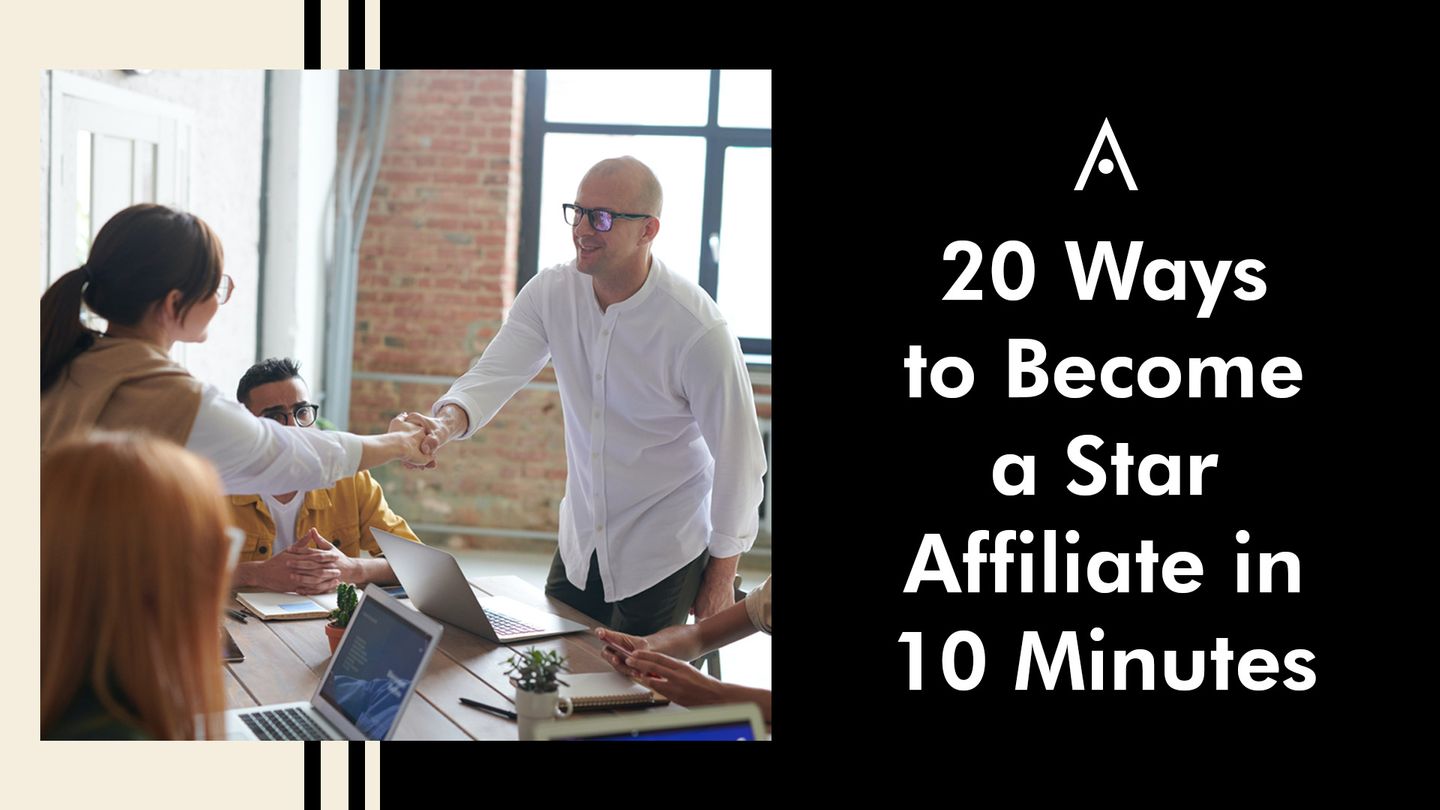 When you're working in affiliate marketing, you need an understanding of all digital marketing, including SEO, PPC, creating websites, operating mailer campaigns, media buying and more. Sending traffic is how you make your income, and you need to have the persistence and know-how to keep trying until it works. Toward this goal, we offer these 20 tips for becoming a star affiliate, broken down by purpose.
Market Research
First, you choose the product you want to promote and do proper market research. This is maybe the most important part. You may pick a certain type of product that people need or want, such as a water bottle. Then, figure out which specific one to promote. These tools help with this part of the process.
1. Google Trends: Look on Google Trends to perform market research. In the water bottle scenario, you can see that glass water bottles trend much higher than other types. That shows this is a good idea.
2. Amazon: Check Amazon reviews for the type of product to figure out how to promote it. Reviews show what people are looking for and positive remarks or complaints they have, which can guide you. For example, you learn that people want an easy-to-clean water bottle, so you can promote that feature.
3. Reddit: Look for more reviews on this site. With the water bottle example, you might see people saying that it's helpful to have more than one size, which could guide you to promote size options.
4. Glimpse: This affordable tool helps if you're struggling to decide on a product. It continuously sends you emails on new trends before they're trending.
5. Product Hunt: This site helps if you want to sell digital products, as it shows trends in new options.
6. Google Alerts: This free tool sends notifications when a keyword is mentioned. Use it to check out comments, trends and info on the product you're looking into.
7. FAQ Fox: This powerful product searches the internet and finds questions and reviews about a specific product so you can gain extra knowledge about it.

Design
The design you use might be the most crucial part of the user experience. A better design means higher conversions. These tools are ready to help you create the best design experience possible.
8. Unsplash: This tool gives you access to a top-notch library of amazing images, which makes it worth every penny.
9. Humaaans: This is a useful tool to create illustrations of people.
10. Noun Project: It's easy to overlook the importance of icons, which offer the perfect way to express ideas, actions and so on. Icons can act as symbols for your website and app. Noun Project helps you create stunning icons easily.
11. Emotypes: This original tool helps you choose the right font for your context. Font has a large impact on psychology and provides one of the best ways to convey emotions. Emotypes helps you make the right choice of font for each situation.
12. Animaticons: Great content doesn't only come down to text. Creating movement on a static page gives the ideal way to lead the eye to strategic positions on your website. Animaticons helps you create stunning GIFs quickly.
13. Mixkit: Perfect for influencers, this site gives access to free assets like music, sound effects, video clips and more for your videos.
Education
You may not have knowledge of all areas of digital marketing, so rely on a tool to help.
14. CreativeLive: This platform can fill in the gaps in your digital marketing knowledge. It offers more than 2,000 classes to teach you about SEO, graphics, design and other relevant subjects.
Productivity
Productivity involves maximum quality, minimum effort/resources and minimum time. The right tools are ready to help you improve your productivity.
15. Fiverr: This platform has professionals offering every digital service you might need. If you don't have certain knowledge or resources, you can buy a service instead of learning it.
16. Wix: This site allows you to create a stunning website if you lack the knowledge to do it yourself.
17. Really Good Emails: This great tool can help with email marketing. It offers hundreds of templates to fit what you want to promote.
18. Wistia: This site can be a good alternative that provides a place to host your videos, and it makes it easy to create and edit videos within the platform.
19. Typeform: Lead gen affiliates may want to try Typeform, which helps you quickly create forms and export data for targets.
20. Iconosquare: If your affiliate marketing includes social media marketing, Iconosquare provides a powerful platform that helps you get analytics about your posts. You can also schedule posts for multiple social media platforms from this one place.
Want to learn more affiliate marketing hacks to get you the best CPA/rev-share deals possible? Then you NEED to join us in Berlin for Affiliate Meet Markt, 26-27 Oct. And the best part... Affiliates attend for FREE.